Please pray for Katie and her family. What I know, I've learned from Twitter...she delivered baby Reese last night via emergency c-section and baby Reese is in a coma. Please pray for the Rowe family!
If you're wondering why I Don't wasn't up sooner...It's because I thought today was Tuesday!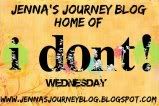 So I thought I'd do a special edition of I Don't Wednesday. Today are things that I don't believe. You can either do a regular I Don't or the Special Edition, because I'm easy going like that.
- I don't believe that any amount of good works will get you into heaven.
- I don't believe in forever families, kolab or garments that protect you from harm.
- I don't believe that only 144,000 people will get into heaven.
- I don't believe that you can't pray directly to God.
- I don't believe that hell doesn't exist.
Now for a twist, here are some things that I DO believe...
- I believe you can go to heaven if you repent of your sins, and ask Jesus to dwell in your heart.
- I believe that anyone can do this.
- I believe that God loves every single person, no matter what they've done.
- I believe God hears our prayers. He may not answer in the way we think is best, but His will is always perfect and his timing, precise.
- I believe the Bible is the perfect, true, infallible word of God.
Ok, your turn. Just post you I Don't's and link to MckLinky. Feel free to put the button in your post and be sure to link back to me so others can join in the fun!