Thank you all for the sweet comments on our ultrasound picture! I was so excited that the baby actually looked like a baby this time! Last time it looked kinda like a tadpole! Ha!
Here is my 11 week bump shot (pardon my whiteness):
Pre-pregnancy I had finally lost the weight from all my medicated infertility cycles so I was back to having a pretty flat tummy...so as you can see I'm starting to show a little bit. Those are my new Seven For All Mankind maternity jeans. I got a great deal on Pea In The Pod's website - over $100 OFF!! Note to self: Don't press arm against body...makes arm look FAT! =)
Awhile ago, when I was in Hawaii, Kelly posted about her favorite room in her house. I thought that was so neat but totally forgot about it by them time I was home (perhaps because I was too busy throwing up nonstop!). So, I'm a little late but what they hay!
My favorite time of the year is fall, hands down. Maybe because where I am from in California, we really don't have a fall season like we do here. Chris and I were married in October because I love how the trees look. So, I choose a picture of our breakfast nook decorated in all of its fall glory: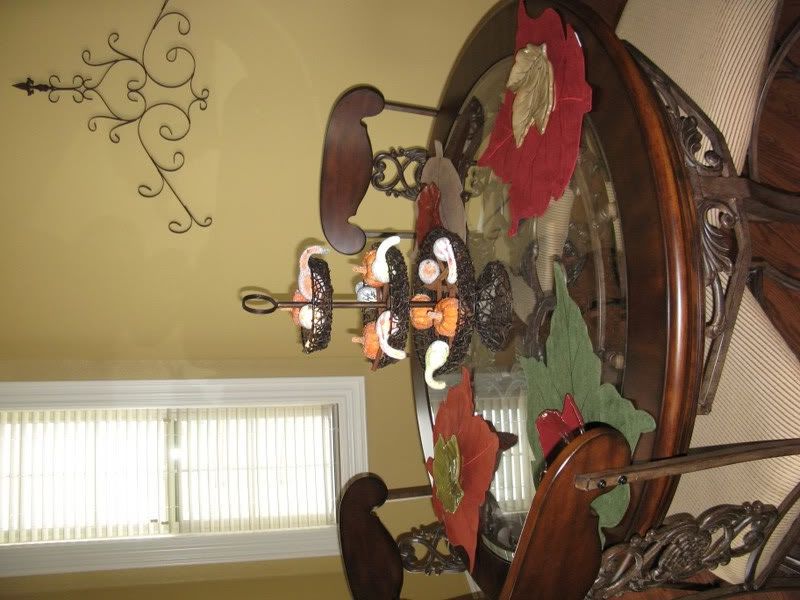 For some reason in this picture, my gourds look white. They are actually green and orange and they have these little beads all over them that make them glisten. The reason I don't have the sliverware and everything else out is because at the time this was taken we had just adopted our newest cat, Roscoe and he had not yet been trained to stay off my table!