Yay! It's Wednesday! Time for some "I Don'ts"...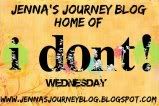 - I don't like the Arkansas humidity. I much prefer the dry heat of California.
- I don't like rabbits as pets. I had one once and she was terribly mean.
- I don't like to be put on the spot.
- I don't iron. Ok, maybe once in awhile. Chris is actually the ironer in our house...I know, I'm blessed.
- I don't look very good in white...probably because it matches my skin so well...I just look like a glowing ghost.
- I don't think I could go back to driving a car after having an SUV for so long. I'd feel really short!
Ok, it's your turn! Just make your own list, and link it up into MckLinky! You can snag my button for your post of for your blog if you'd like, and be sure to link back to me so your friends can participate! Have fun!