Time for I Don't
Wedneday
!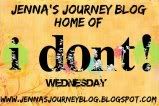 - I don't know if I'll be watching the new season of America idol. Not because of Paula...I'm just a little bored with the show.
- I don't give in order to receive.
- I don't like sharks. Or spiders. Or snakes.
Eww
.
- I don't like going to the doctors.
- I don't ever cook fish. Weird I know, but I don't eat it either. Chris orders it when we go out though.
- I don't watch The View. I think their mean! Well, except Elizabeth, I really like her.
So join in the fun! Make your own list, and add it into
MckLinky
! Link back to me so your friends and readers can participate too!