It's that time again! I Don't Wednesday!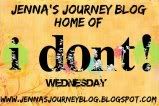 - I don't eat seafood...if it comes out of water forget it. I prefer my land animals!
- I don't like the colors red and yellow together. Like on walls...it looks like ketchup and mustard!
- I don't like scary movies. I think the last one I watched was 13 Ghosts years ago. I still have nightmares!
- Speaking of movies, I don't watch sad ones either. With the exception of Steel Magnolias.
- I don't run. Unless being chased by someone wielding a gun.
- I don't talk very loudly. Apparently. Chris is always telling me to speak up.
Want to get in on the I Don't fun? Simple!
Just write your post, attach the I Don't logo on it, link back to me and enter your info into MckLinky!